Arab Film Distribution presents
The Fourth Seattle Arab Film Festival
January 21-27, 2000

Tickets can be purchased by calling
206 322 2564

or at the following locations:

Continential Restaurant & Pastry Shop
4549 University Way NE
206 632 4700

Pages Books & News & Web
432 15th Avenue East
206 324 1000

$8 general admission
$6 for students and seniors


Broadway Performance Hall at Seattle Central Community College
1625 Broadway [more info]

The Little Theater
610 19th Avenue East [more info]

Henry Art Gallery
15th Avenue NE and NE 41st Street [more info]

click here for the schedule of events

Welcome to the Fourth Seattle Arab Film Festival, a showcase of award-winning and compelling narratives and documentaries from and about the Arab world. Once again, we are pleased to provide Seattle audiences with a rare chance to view and appreciate Arab cinema. This year our selection features a wide range of films from Algeria, Egypt, Iraq, Lebanon, Libya, Palestine, Syria, Tunisia, Yemen and the United States.

The beginning of the new millennium is an opportune time to reflect on how the last century shaped the Arab image through cinema. In addition to our usual selection of new films we are pleased to offer you a chance to revisit some old masterpieces. Our opening night event, 100% ARABICA, takes a lighthearted look at the cultural clash taking place within the Algerian community in the suburbs of Paris. It also features the life affirming music of Algeria's most talented raï musicians.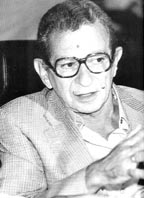 Youssef Chahine

At the core of this year's festival is a Youssef Chahine retrospective celebrating the mark that this Egyptian filmmaker has left on independent Arab Cinema. We will show such masterpieces as THE SPARROW, THE LAND and CAIRO STATION as well as the colorful and eclectic ALEXANDRIA WHY? and ALEXANDRIA AGAIN AND FOREVER. We are also delighted to present two films by the prolific Tunisian director, Nouri Bouzid: BENT FAMILIA and MAN OF ASHES. Bouzid and Chahine share the distinction of being imprisoned because of the controversial nature of their films.

Lovers of the epic genre will have the opportunity to see some classic films rarely available for viewing on the big screen. THE MESSAGE (The Story of Islam), and THE LION OF THE DESERT are two thrilling historical films directed by Moustapha Akkad, the producer of the popular Halloween series. Two more classic films, CHRONICLE OF THE YEARS OF EMBERS, the Grand Prize Winner at Cannes (1975) and the rarely seen film, THE MUMMY, also known as THE NIGHT OF THE COUNTING OF THE YEARS, serve as testimonies to the richness and diversity of Arab cinema.

This festival also marks an increase in the number of documentary film and video screenings. We are delighted to present the North American premiere of the fascinating, THE ENGLISH SHEIKH AND THE YEMENI GENTLEMAN as well as an inspirational package of Arab American films with the critically acclaimed MY AMERICAN GRANDMOTHER by Iraqi born filmmaker Aysha Ghazoul.

Given the recent prominence of the Arab world in local news, this year's Festival represents an important opportunity for Seattleites to take a closer look at a world, which is often misrepresented. Join us in our celebration of Arab Cinema! Seating is limited, so buy your tickets early. See you at the movies!

John Sinno & Luanne Brown
Arab Film Distribution


Date/Time

Friday January 21

7:00 PM

100% Arabica / Opening Night Reception

9:30 PM

The Mummy

Saturday January 22

3:00 PM

Lion of the Desert

5:00 PM

5:30 PM

Date Wine

7:00 PM

Grapes and Figs are in Season

7:30 PM

Lebanon Imprisoned Splendour

9:00 PM

Arab American Package

9:30 PM

Man of Ashes

Sunday January 23

3:00 PM

Cairo Station

5:00 PM

The Message

5:30 PM

The Mummy

7:00 PM

Chronicle of a Disappearance

7:30 PM

Four Women of Egypt

9:00 PM

The Land

9:30 PM

Children of Shatila
Collecting Stories from Exile




Monday January 24

7:00 PM

Summer at La Goulette

7:30 PM

Arab American Package

9:00 PM

Bent Familia

9:30 PM

The Land

Tuesday January 25

7:00 PM

The Sparrow / Cairo as Seen by Chahine

7:30 PM

The Films of Akram Zaatari

9:00 PM

Chronicle of the Years of Embers

Lion of the Desert

9:30 PM

Wednesday January 26

7:00 PM

Alexandria Why?

7:30 PM

The Sparrow / Cairo as Seen by Chahine

9:00 PM

9:30 PM

Date Wine

The Message

Thursday January 27

7:00 PM

The English Sheikh and the Yemeni Gentleman

7:30 PM

Summer at La Goulette

9:00 PM

Alexandria Again and Forever

9:30 PM

Grapes and Figs are in Season