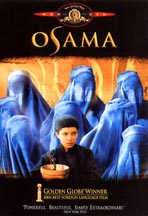 Type:


Feature Film





Director:


Siddiq Barmak





Year:


2003





Time:


82 mins.





Language:


Pashtu with English subtitles

Winner! — Golden Globe, Best Foreign Language Film

"Truth shines through every frame, thanks to Barmak's storytelling skill and his young star's unaffected radiance"
- Richard Corliss, Time Magazine



This title is currently out-of-print.

One of 2003's most powerful films, and the first feature filmed in post-Taliban Afghanistan, Osama is a poignant look at the lengths to which a small girl will go to ensure her family's survival under the oppressive Taliban rule. Based on a true story, the film follows a 12-year old girl who disguises herself as a boy in order to work to earn money for food. Taking the name Osama, the girl attempts to blend into the male-dominated society without drawing the suspicions of the authorities. A moving, emotional experience that sheds much light on a previously hidden world and people.