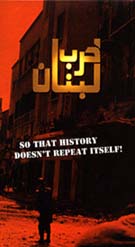 Type:


Documentary





Director:


Omar Al Issawi





Year:


2000





Time:


12 hours





Language:


DVD: Arabic with French or English subtitles / VHS: Arabic with NO SUBTITLES

OUT OF PRINT

This amazing four-volume documentary series looks at The Lebanese War in great detail in an attempt to promote understanding of a conflict of great complexity and historical importance to the Middle East.

Disc 1 contains the first four episodes:

Baptism of Fire
The Roots of Conflict
Explosion
Death of a Country

Disc 2 includes episodes five through eight:

Damascus Intervenes
Fire and Embers
Zahle and the Indian Summer
Sharon Invades

Disc 3 contains episodes nine through eleven:

Occupation of an Arab Capital
The Massacre
Defeat of a Superpower

Disc 4 contains episodes twelve through fifteen:

Chaos
Damascus Returns
The Storm
The Accord to End War


Rental Information
This film is available from AFD for public screenings and television broadcast. For information regarding rental rates and formats, please contact

[email protected]

for institutional/non-theatrical screenings, or

[email protected]

for theatrical, festival, television, or other bookings.