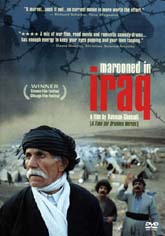 Type:


Feature Film





Director:


Bahman Ghobadi





Year:


2002





Time:


97 minutes





Written by:


Bahman Ghobadi





Language:


In Kurdish with English subtitles

"A surprisingly exuberant slice-of-life, with generous bits of broad comedy and musical performance."
- Scott Tobias, The Onion

"As full of joy as pain, it's a perspective we need to see more often."
- Janice Page, Boston Globe



This film is currently out-of-print.

During the Iran-Iraq war, an aging Iranian-Kurd musician hears that his wife, a singer with a magical voice who deserted him for his best friend and fled to Iraq, is in trouble. He cons his two sons into accompanying him on the search for her, and they embark on an adventure filled with music, romance and danger. Acclaimed Iranian director Bahman Ghobadi's (A Time For Drunken Horses) award-winning film uses humor and wit to dramatize the plight of the Kurdish people.