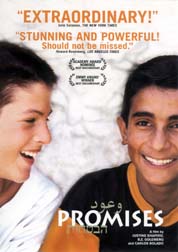 Type:


Documentary





Director:


Justine Shapiro, B.Z. Goldberg, Carlos Bolado





Year:


2001





Time:


102 minutes





Language:


Arabic, Hebrew, and English with English subtitles

"Beautifully crafted and brutally honest, Promises offers an unexpected window into the complexities of the Middle East struggle and the humanity of its people" - Loren King, Boston Globe



This title is currently out of print!

This Emmy Award-winning, Academy Award-nominated documentary takes a highly personal look at the conflict in the Middle East. Filmmakers Justine Shapiro, B.Z. Goldberg, and Carlos Bolado explore the lives of Palestinian and Israeli children living in settlements and refugee camps in the West Bank. Their inspiring story demonstrates that, when viewed through the eyes of children, the boundaries between embittered cultures become porous, but that innocence and freedom can be difficult to maintain.

Includes updates of the Israeli and Palestinian children filmed in August 2004, footage from the kids' journey to the 2002 Academy Awards, deleted sequences, and trailer.