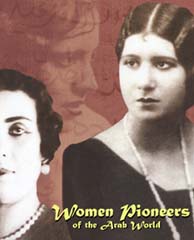 Type:


Documentary





Director:


Various





Year:


2005





Time:


670 minutes





Language:


English, French and Arabic with English subtitles

Arab Film Distribution is pleased to present the Women Pioneers Collection, a series of 12 hour-long documentary films that celebrate and explore contributions made by remarkable women in the Arab world in a variety of fields throughout the 20th century. In so doing, the series also provides a fascinating glimpse into the political histories, social trends, and the march of progress in a variety of Arab countries and societies during the past one hundred years.

Presented by filmmakers from throughout the Middle East and North Africa, these documentaries explore the life stories and achievements of trail-blazing women such as Umm Kulthum (Egypt), Isabelle Eberhardt (Algeria), Nazira Joumblat (Lebanon), and Me Fama (Morocco), to name just a few. By eschewing the common stereotypes of Arab women, these extraordinary leaders have enriched Arab heritage with their musical, literary, or political endeavors and their fearless sense of adventure.

12 Film Collection Includes:
Volume One
The Legend of Rose Al-Youssef
by Mohamed Kamel El-Kalioubi From humble beginnings as a refugee, Rose Al-Youssef would ultimately occupy a distinguished position in the history of art, culture, press, and politics in Egypt as a celebrated actress and publisher.
go to The Legend of Rose Al-Youssef item page

Volume Two
Women Who Loved Cinema, Part 1
by Marianne Khoury
Featuring rare film footage and interviews with scholars and directors such as Youssef Chahine, this engaging documentary chronicles the achievements of women filmmakers whose adventurous spirits changed the face of the Egyptian film industry in the 1920s and 30s.
go to Women Who Loved Cinema, Part 1 item page

Volume Three
Women Who Loved Cinema, Part 2
by Marianne Khoury
This second part of the Women Who Loved Cinema series chronicles the achievements of women who influenced Egypt's film industry from the 1930s to the 1960s and beyond.
go to Women Who Loved Cinema, Part 2 item page

Volume Four
Woman is Courage
by Amine Rachedi
This mesmerizing documentary tells the story of Louisette Ighilahriz, a young Algerian resistance fighter who was imprisoned and tortured by French troops in 1957, before being rescued by a kind-but-mysterious French military doctor.
go to Woman Is Courage item page

Volume Five
Rai Story: From Cheikha Rimitti to Cheba Djenet
by Madeleine Verschaffelt & Ahmed Rachedi
Rai Story takes us on a musical journey that begins in the Algerian city of Oran, where the rai tradition began in 1923. As the filmmakers pursue an interview with legendary diva Cheikha Remitti, they talk with other rai singers about how this local type of music has changed over the years.
go to Rai Story item page

Volume Six
Lady of the Palace
by Samir Habchi
Famous for her wisdom and strong personality, Nazira Joumblat boldly entered the Lebanese political arena at a time when the field was entirely dominated by men. Undaunted, she helped maintain peace and stability in Lebanon for many years, earning the respect of both men and women alike.
go to Lady of the Palace item page

Volume Seven
When a Woman Sings
by Mustapha Hasnaoui
This music-filled documentary examines the impact singers Umm Kulthum and Mounira El-Mahdeya had on Egyptian politics and society during the first half of the 20th century.
go to When a Woman Sings item page

Volume Eight
Women Beyond Borders
by Jean Chamoun
Director Jean Chamoun examines the lives and works of several women who have joined the fight for Palestinian liberation—including political activist and humanitarian Um Khalil, as well as Kifah Afifi, who was imprisoned in the Khiam detention center.
go to Women Beyond Borders item page

Volume Nine
Sheikhates Blues
by Ali Essafi
The female Moroccan musicians known as sheikhates sing about the realities of life—about the land, nature, wars, mountains, crises, and, of course, they sing about love. In short, nearly every facet of Morocco's heritage is represented in their music.
go to Sheikhates Blues item page

Volume Ten
Women's Chitchat
by Hala Galal
This provocative film studies the evolution of Egyptian society from the early 20th century to today, focusing on the status of women as experienced by several generations within the same family.
go to Women's Chitchat item page

Volume Eleven
Fama: Heroism Without Glory
by Dalila Ennadre
This delightful and informative documentary celebrates the life of Me Fama, the Moroccan revolutionary who fought against French and Spanish troops before Morocco was granted its independence in 1956.
go to Fama: Heroism Without Glory item page

Volume Twelve
Seekers of Oblivion
by Raja Amari
Seekers of Oblivion follows the life of adventurer Isabelle Eberhardt, who left Europe for North Africa at a young age. Enthralled by the land and the people, she consorted with all types, at times even masquerading as a man in order to gain access to social sectors that were off limits to women.
go to Seekers of Oblivion item page

Women Pioneers Collection titles are also available individually.

This film is available with a Digital Site License (DSL), which allows colleges, universities, or libraries to encode, locally host, and stream the film to their community on a closed, password-protected system.

Rental Information
This film is available from AFD for public screenings and television broadcast. For information regarding rental rates and formats, please contact info@arabfilm.com for institutional/non-theatrical screenings, or info@arabfilm.com for theatrical, festival, television, or other bookings.