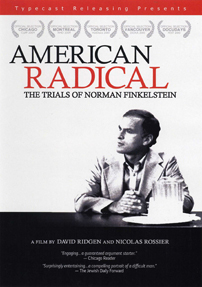 Type:


Documentary





Director:


David Ridgen & Nicolas Rossier





Year:


2009





Time:


88 minutes





Language:


English & Arabic with English subtitles

"A cautiously respectful documentary portrait of a political firebrand who presents himself as a beacon of moral truth in the murk of the Israeli-Palestinian conflict." —New York Times

"A compelling portrait of a difficult man." —Jewish Daily Forwa



A devoted son of Holocaust survivors and ardent critic of Israeli foreign policy, the polarizing American political scientist and author Norman Finkelstein has been called a lunatic and self-hating Jew by some, and an inspirational revolutionary by others. Uncompromising even in the face of his denial of tenure at DePaul University, Finkelstein is revealed as a complex, politically isolated figure who puts the pursuit of justice above the security of his academic career. Exploring the difficult and deeply-felt issues at the heart of the Palestinian-Israeli conflict, American Radical is the insightful and enraging documentary that follows Finkelstein around the world as he attempts to negotiate a powerful voice among his impassioned critics and supporters.

"For us, Norman Finkelstein is the consummate documentary subject: a complex firebrand, principled to the end, at the apex of some of the world's longest conflicts. He rarely appears in mainstream media, yet always ends up in controversies. Finkelstein's life is about focus, through a prism of his upbringing by Holocaust survivors. The dogged, relentless pursuit of his principles and foes can both inspire and repel. At once agitator, comedian, and merciless scholar, Finkelstein creates as many storms as he enters. Few will go where he does—a Jew deliberately walking into Hizbollah headquarters, into a Palestinian refugee camp, or into a room filled with those who vehemently oppose his views to speak his mind. When radicals collide, does it create more understanding? Some would argue that it does. Others would claim that Finkelstein's principled but too often bitter advocacy does much to discredit the cause of a just resolution of the Israeli-Palestinian conflict. Audiences can decide for themselves." —directors David Ridgen & Nicolas Rossier
— Directors David Ridgen & Nicolas Rossier

American Radical is a nuanced and powerful portrait of the scholar Norman Finkelstien, one of the nation's most courageous and embattled intellectuals. It is a reminder that mendacity and timidity, when in the service of conventional beliefs, are more highly prized in most universities that truth. It illustrates that those who unmask the lies of the intellectual elite swiftly become their victims. The power and subtext of this film, however, is not in the wars fought between Finkelstien and those like Alan Dershowitz who seek to destroy him, but in Finkelstein's powerful fealty to his mother's suffering in the Warsaw Ghetto and later the Nazi death camps. Finkelstein sees in all who are oppressed his mother's degradation and pain. This is a movie that is, at its core, about the unshakable bond of love between a parent and a true and faithful son who refuses to forget or compromise."
— Chris Hedges, former New York Times War & Middle East Correspondent and author of "American Fascists"

Watch the trailer:


This film is available with a Digital Site License (DSL), which allows colleges, universities, or libraries to encode, locally host, and stream the film to their community on a closed, password-protected system.

Rental Information
This film is available from AFD for public screenings and television broadcast. For information regarding rental rates and formats, please contact [email protected] for institutional/non-theatrical screenings, or [email protected] for theatrical, festival, television, or other bookings.