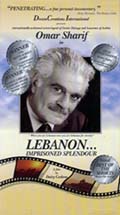 Type:


Documentary





Director:


Daizy Gedeon





Year:


1996





Time:


61 minutes





Language:


English

OUT OF PRINT

On April 13, 1975 war erupted in Lebanon, devastating the country for more than 17 years.

But before and beyond the war exists a romantic, exciting, historic land that has been visited and blessed by Jesus Christ; conquered by Alexander the Great; inspired by the Islamic teachings of Mohammed; captured by the Ottoman Turks; controlled by France ...but liberated by the Lebanese.

Join Omar Sharif as he shares with you his personal experiences and joys about Lebanon in this award-winning film.


Rental Information
This film is available from AFD on 16mm and video for public screenings and television broadcast. For information regarding rental rates and formats, please contact

[email protected]

for institutional/non-theatrical screenings, or

[email protected]

for theatrical, festival, television, or other bookings.