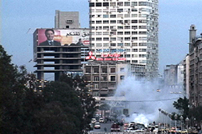 Type:
Documentary

Director:
Julia Meltzer and David Thorne

Year:
2007

Time:
47 minutes

Language:
Arabic and Armenian with English subtitles
Winner! Best New International Video, Images Fest Toronto
Winner! Dialogue Award, Electronic Media Arts Fest Germany


Ordering Information
Available for online sale
Available for online sale
A documentary video in five parts presenting competing visions of an uncertain future, We Will Live to See These Things was shot in 2005 and 2006 in Damascus, Syria.

Each section of the piece—the chronicle of a building in downtown Damascus; documentation of an equestrian event; an interview with a dissident intellectual; a portrait of children learning the Qur'an; the recitation of a vision beheld by a U.S. policymaker—offers a different perspective on what might come to pass in a place where people live between the forces of a repressive regime, a growing conservative Islamic presence and shifting pressures from the USA.

Institutional DVD purchase copies also include the performance-art short work Not a Matter of If, But When, also directed by Julia Meltzer and David Thorne.

This film is available with a Digital Site License (DSL), which allows colleges, universities, or libraries to encode, locally host, and stream the film to their community on a closed, password-protected system.

Rental Information
This film is available from AFD for public screenings and television broadcast. For information regarding rental rates and formats, please contact [email protected] for institutional/non-theatrical screenings, or [email protected] for theatrical, festival, television, or other bookings.