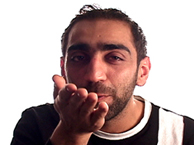 Type:


Short Film





Director:


Julia Meltzer and David Thorne





Year:


2006





Time:


17 mintues





Language:


Arabic with English subtitles

Winner! — Transmediale Award - Transamediale Festival, Berlin

"A knockout!" - Christopher Knight, LA Times



Developed with the filmmakers while living in Damascus, young Syrian performer Rami Farah uses various modes of address such as a promise, a threat, a curse, a joke and a premonition in order to speak to the current state of affairs in Syria and the Middle East.

Through a combination of direct address and fantastical narrative, Rami's improvisations speak to living in a condition of uncertainty, chaos and stasis.

The institutional DVD purchase copies also include the documentary film We Will Live to See These Things, also directed by Julia Meltzer and David Thorne.

This film is available with a Digital Site License (DSL), which allows colleges, universities, or libraries to encode, locally host, and stream the film to their community on a closed, password-protected system.

Rental Information
This film is available from AFD for public screenings and television broadcast. For information regarding rental rates and formats, please contact [email protected] for institutional/non-theatrical screenings, or [email protected] for theatrical, festival, television, or other bookings.