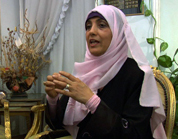 Type:
Short Film

Director:
Brigid Maher

Year:
2009

Time:
36 minutes

Produced by:
Brigid Maher

Edited by:
Brigid Maher

Language:
English & Arabic with English subtitles
Ordering Information
Available for online sale
Available for online sale
A collection of five short documentary films, Sheikha Stories profiles several women of the Middle East and the institutions that support their role in Islam. The women and institutions featured in the films differ in their approaches, ideas and interpretations of the religion—at times making the road towards leadership a dynamic journey.

The Modern Sheikha
2009 | 5 minutes
By sitting in on discussions between teacher Ghina Hammoud and her students, The Modern Sheikha examines the impact of women religious leaders in their communities throughout the Arab world. Authors Dr. Saba Mahmood ("Politics of Piety: The Islamic Revival and the Feminist Subject"—2005) and Dr. R. Stephen Humphries ("Islamic History"—1991) make appearances to help provide context for the conversation.

Magda's Calling
2009 | 8 minutes
In just eight minutes, the short documentary Magda's Calling examines the fascinating life of Magda Amer. A "daiya"—or caller—for Islam, Magda has been certified by Al-Azhar to teach the religion in the mosques of Cairo. She is also a doctor who practices alternative medicine and owns a homeopathic shop in the city's suburbs where she teaches about "prophetic medicine"—the medicine and nutrition practiced by Prophet Muhammed (PBUH). Magda is also the author of several books, including "Rights and Tolerance In Islam" and "The Secrets of Absolution."

Socratic Sheikha
2009 | 6 minutes
Hanan al-Lahham is a teacher of religion in Damascus, Syria. Although she never received a formal education in Islam when she was young, Hanan has endeavored in her studies and now provides courses throughout the Arab world, as well as writing "tafsir"—commentary and interpretations—on Al-Qur'an. Her socratic teaching method, reflected in her approach to writing, encourages open discussion during her religious lessons.

Mosque of Light
2009 | 8 minutes
As part of the Sheikh Ahmed Kuftaro Foundation—run by the founder's son, Sheikh Salah al-Deen Kuftaro—the Abu Nour School has encouraged the enrollment of female students since its inception more than 60 years ago. The gender-separated school also houses over 50 women teachers, a number of whom have achieved their doctorates and now lecture to both women and men.

Ladies of Brilliance
2009 | 9 minutes
More than 40 years ago, Al-Azhar University in Cairo, Egypt opened its doors to women, with a gender-segregated and separated campus. In Brigid Maher's insightful short documentary Ladies of Brilliance, students of Al-Azhar discuss their studies and the role of women who hold leadership positions in Islam.

Click here to find info on director Brigid Maher's documentary film Veiled Voices, which is also available for institutional purchase.

This film is available with a Digital Site License (DSL), which allows colleges, universities, or libraries to encode, locally host, and stream the film to their community on a closed, password-protected system.

Rental Information
This film is available from AFD for public screenings and television broadcast. For information regarding rental rates and formats, please contact [email protected] for institutional/non-theatrical screenings, or [email protected] for theatrical, festival, television, or other bookings.