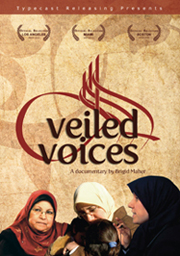 Type:


Documentary





Director:


Brigid Maher





Year:


2009





Time:


59 minutes





Produced by:


Brigid Maher





Edited by:


Brigid Maher





Language:


English & Arabic with English subtitles

"A timely, perceptive exploration of an aspect of contemporary Islam that receives relatively scant attention, 'Veiled Voices' is highly recommended." —M. Puffer-Rothenberg, Video Librarian Magainze



Women across the Arab world are redefining their role as leaders in Islam. In director Brigid Maher's insightful documentary film, Veiled Voices, three influential women Islamic leaders are profiled—along with their families and the communities in which they serve: Ghina Hammoud in Lebanon, Dr. Su'ad Saleh in Egypt and Huda al-Habash in Syria.

Filmed over the course of two years, Veiled Voices reveals a world rarely documented, exploring both the public and private lives of these women. As a divorced woman, Ghina Hammoud faces a personal challenge in gaining legitimacy as a leader, since divorce is controversial in communities throughout Lebanon; In Egypt, Dr. Su'ad Saleh must continually fight for public recognition by the Egyptian religious authority at al-Azhar—the famous Cairo mosque and university founded in the 10th century; Huda al-Habash in Damascus enjoys both institutional support and the support of her husband as she teaches women in Syria and lectures all over the Middle East, helping others "move…from ignorance to knowledge."

The three personal stories featured in Veiled Voices give insight into how Muslim women are increasingly willing to challenge the status quo from within their religion, promoting Islam as a powerful force for positive transformation in the world.

Study guides for universities and high schools are available here. Viewing guides for screenings and discussions are also available.

Watch the trailer:


This film is available with a Digital Site License (DSL), which allows colleges, universities, or libraries to encode, locally host, and stream the film to their community on a closed, password-protected system.

Rental Information
This film is available from AFD for public screenings and television broadcast. For information regarding rental rates and formats, please contact [email protected] for institutional/non-theatrical screenings, or [email protected] for theatrical, festival, television, or other bookings.