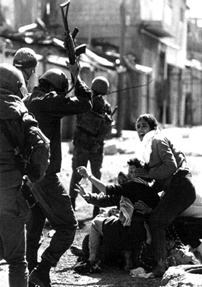 Type:


Documentary





Director:


Tom Hayes





Year:


1997





Time:


56 minutes





Language:


English, Arabic and Hebrew with English subtitles

Ahlan w'Sahlan (Our People and Our Lands) is a Palestinian expression of greeting, offering everything between earth and sky for the comfort of a guest. It also sums up the dual responsibilities placed on an occupying power by the Geneva Accords; administration of the occupied territory and responsibility for the well-being of the people on it.

People and the Land airdrops viewers into the universe of an occupied people, unreeling images of a new form of apartheid based on ethnicity. Challenging U.S. foreign policy and the conventions of the documentary form itself, People and the Land examines the concrete realities of Israel's conduct in the West Bank and Gaza, the level of U.S. support for that conduct through foreign aid, and the human cost of that aid in Palestine and the USA.

This film is available with a Digital Site License (DSL), which allows colleges, universities, or libraries to encode, locally host, and stream the film to their community on a closed, password-protected system.

Rental Information
This film is available from AFD for public screenings and television broadcast. For information regarding rental rates and formats, please contact [email protected] for institutional/non-theatrical screenings, or [email protected] for theatrical, festival, television, or other bookings.