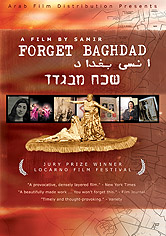 Type:


Documentary





Director:


Samir





Year:


2003





Time:


111 minutes





Produced by:


Dschoint Ventschr Filmproduktion





Written by:


Samir





Language:


In Arabic, English, and Hebrew w/ audio or subtitles in English, German, French, Arabic, Hebrew, Italian or Spanish

Winner! — Critics Week Award, Locarno International Film Festival
Winner! — Best Documentary, Swiss Film Prize

"Casts a cold light on racial intolerance in Iraq, where four of the film's subjects were born, and Israel, where they now live." —Variety



Forget Baghdad tells the forgotten story of four Baghdadi-Jews, all former members of the Iraqi communist party who were forced to emigrate at Israel's founding.

Iraqi-born, Zürich-based director Samir (Babylon 2) "achieves a density of ideas and images that extend the boundaries of the documentary form" (Vancouver International Film Festival), fashioning a story at once "timely and thought-provoking" (Variety). Reflecting on the stereotypes of the "Jew" and the "Arab" in the last hundred years of cinema, Forget Baghdad masterfully weaves its political, social and cultural themes to a visually innovative and narratively profound end.

The four elderly protagonists (all now successful Israelis) were influenced in their youth by the internationalism of the Iraqi communist party. But in the early 1950s, their Jewish identity put them at odds with the rising Arab nationalism so characteristic of the decade. Fleeing to Israel was hardly a solution, as the men found themselves on the outskirts of a society built and governed by European Jews. Jews in Baghdad and Arabs in Israel, the divided identities and confusion of these four men's lives tell a much larger tale of global, political and cultural disorder.

Featuring interviews with renowned cultural studies scholar Ella Shohat, Forget Baghdad is suitable for instruction in world cinema, Middle East and postcolonial studies as well as Jewish, Hebrew, or Arabic studies.

Visit the film's official website, www.forgetbaghdad.com

This film is available with a Digital Site License (DSL), which allows colleges, universities, or libraries to encode, locally host, and stream the film to their community on a closed, password-protected system.

Rental Information
This film is available from AFD for public screenings and television broadcast. For information regarding rental rates and formats, please contact [email protected] for institutional/non-theatrical screenings, or [email protected] for theatrical, festival, television, or other bookings.