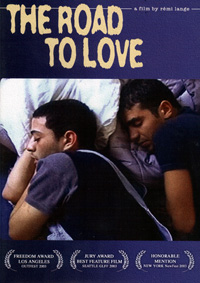 Type:


Feature Film





Director:


Rémi Lange





Year:


2002





Time:


70 minutes





Language:


French and Arabic with English subtitles

Winner! — Best Feature, Seattle Lesbian & Gay Film Festival
Winner! — Freedom Award, Los Angeles OutFest
Honorable Mention! — New York Lesbian & Gay Film Festival



Slow-burning and smart, French director Rémi Lange's The Road to Love is a romantic tale of self-discovery that also offers a fascinating historical take on homosexuality in northern Africa.

French-Algerian sociology student Karim is having trouble finding interviewees for his term project, a video documentary on homosexual relationships in Islamic cultures. As his research progresses, he meets Farid, a handsome flight attendant. In Farid, Karim believes he has found an ideal subject for his film...but he soon begins to admire more than just Farid's insight. When Karim learns that some cultures have accepted and encouraged same-sex unions, he finally begins to face his own sexuality.

Set in scenic locales from Paris to Marseilles to Amsterdam (with a brief detour to Jean Genet's grave in Larache, Morocco), The Road to Love is a shrewd and sensual tale of enchantment and desire.

This film is available with a Digital Site License (DSL), which allows colleges, universities, or libraries to encode, locally host, and stream the film to their community on a closed, password-protected system.

Rental Information
This film is available from AFD for public screenings and television broadcast. For information regarding rental rates and formats, please contact [email protected] for institutional/non-theatrical screenings, or [email protected] for theatrical, festival, television, or other bookings.