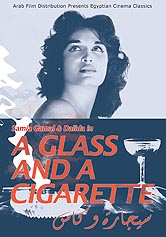 Type:


Feature Film





Director:


Niazi Mostafa





Year:


1955





Time:


112 minutes





Written by:


Abdel Aziz Salam





Edited by:


Sayed Bayouni





Language:


Arabic with English or French subtitles

Directed by Niazi Mostafa and based on a story by Abdel Aziz Salam, A Glass And A Cigarette is a captivating classic from the golden age of Egyptian cinema. The film features several of the era's brightest stars, including the illustrious Samia Gamal as Hoda, a famous dancer who gives up the spotlight to marry and start a family with Mamdouh, a handsome young doctor who is just beginning his career. When Mamdouh's scheming Italian head nurse Yolanda (played with gusto by the radiant Dalida) sets her sights on Mamdouh, Hoda's jealousy drives her to drink, ultimately endangering everything she holds dear.

Featuring several dynamic Samia Gamal dance sequences and wonderful songs performed by Kouka and Dalida to help lighten the mood, A Glass And A Cigarette is an enchanting example of Egyptian melodrama at its finest.

DVD Special Features


Niazi Mostafa filmography
Samia Gamal filmography
Dalida filmography
Advertising materials & lobby cards
Film restoration featurette


This film is available with a Digital Site License (DSL), which allows colleges, universities, or libraries to encode, locally host, and stream the film to their community on a closed, password-protected system.

Rental Information
This film is available from AFD for public screenings and television broadcast. For information regarding rental rates and formats, please contact

[email protected]

for institutional/non-theatrical screenings, or

[email protected]

for theatrical, festival, television, or other bookings.