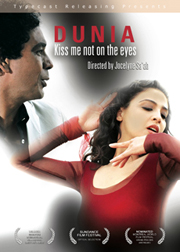 Type:


Feature Film





Director:


Jocelyne Saab





Year:


2006





Time:


108 minutes





Written by:


Jocelyne Saab





Edited by:


Claude Reznik





Language:


Arabic with English subtitles

Nominated: Grand Jury Prize [World Cinema, Dramatic]
- Sundance Film Festival, 2006

"Dunia offers a colorful package obsessed with sensual surfaces." — Variety



A young student of the arts, Dunia aspires to be a professional dancer and poet. Her artistic expression is inhibited, however, by her inability to experience and express desire. Dunia's reasoning that women should not move their bodies to evoke an act of love is challenged by the ardent public intellectual Dr. Beshir–played by Egyptian superstar singer Mohammed Mounir.

With his help, Dunia begins an all-consuming search for ecstasy in poetry, dance and music–taking us into the world of women in a society that both fetishizes and oppresses female sexuality. Ultimately, Dunia learns that she must confront the traditions that have destroyed her capacity for pleasure before she will be able to experience it.

This film is available with a Digital Site License (DSL), which allows colleges, universities, or libraries to encode, locally host, and stream the film to their community on a closed, password-protected system.

Rental Information
This film is available from AFD for public screenings and television broadcast. For information regarding rental rates and formats, please contact [email protected] for institutional/non-theatrical screenings, or [email protected] for theatrical, festival, television, or other bookings.