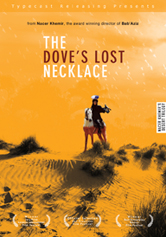 Type:


Feature Film





Director:


Nacer Khemir





Year:


1991





Time:


90 minutes





Written by:


Nacer Khemir





Language:


Arabic w/ English subtitles

Winner! Special Jury Prize — Locarno International Film Festival

"A delightful fairytale; straight out of 1001 Nights." —FilmFest DC



This second feature in Nacer Khemir's Desert Trilogy is a visually ravishing folktale reminiscent of "The Thousand and One Nights."

While studying Arabic calligraphy with a grand master, Hassan comes across a fragment of rare manuscript. He sets off in search of the missing pieces, believing that once he finds them, they will reveal all the secrets of love. With the help of a lovers' go-between, Hassan meets the beautiful Aziz, Princess of Samarkand, who aids him in his search.

The two encounter wars, a battle between false prophets, and face an ancient curse in their hunt for the missing manuscript. As the answers Hassan seeks become ever more elusive and complex, he begins to suspect that an entire lifetime would not suffice to learn the infinite dimensions of love.

Tunisian director Nacer Khemir, also a poet, painter and professional storyteller, notes: "The film takes place in Moslem Andalusia of the 11th century. But it's not a question of reconstituting a given time and place, but rather of summoning up the reflection of a forgotten garden, and out of a yearning for peace, so difficult to protect from barbarians and from destructive fanaticisms.

Andalusia has been the meeting place of many cultures, a living dialog of the peoples and religions whose traces can still be deciphered in texts, music and gardens all the way from the Atlantic to the Red Sea. This is not an Andalusian love story, but Andalusia as the very essence of love, through its perfumes, poetry and gardens."

This film is available with a Digital Site License (DSL), which allows colleges, universities, or libraries to encode, locally host, and stream the film to their community on a closed, password-protected system.

Rental Information
This film is available from AFD for public screenings and television broadcast. For information regarding rental rates and formats, please contact [email protected] for institutional/non-theatrical screenings, or [email protected] for theatrical, festival, television, or other bookings.