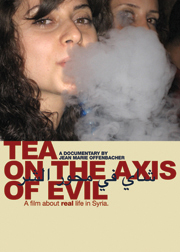 Type:


Documentary





Director:


Jean Marie Offenbacher





Year:


2009





Time:


67 minutes





Language:


English & Arabic with English subtitles; DVD w/ French subtitles also available.

WINNER: Noor Award for Outstanding Documentary
—San Francisco Arab Film Fest

WINNER: Special Mention Jury Award
—Salento International Film Fest





In 2003, the Bush Administration and the US media began referring to Syria and Iran in the same terms that had been used to justify the US invasion of Iraq. As a result, it was becoming ever more possible that attempts to destabilize Syria and Iran would have proceeded unopposed by a misinformed American public.

After hearing reports about the friendliness of the Syrian people that conflicted with what was being presented in the news, filmmaker Jean Marie Offenbacher decided that this contradiction deserved further exploration. She moved to Syria—alone—to record a portrait of life from all across the country, from the rural regions to the large urban centers and even to the halls of power in Damascus.

By presenting Syrians from all walks of life as they converse about their daily lives and discuss such topics as cultural tradition, globalism, religion and education—to name just a few—Tea on the Axis of Evil makes the moderate, genial voices of the Syrian people available for the rest of the world to hear.

This film is available with a Digital Site License (DSL), which allows colleges, universities, or libraries to encode, locally host, and stream the film to their community on a closed, password-protected system.

Rental Information
This film is available from AFD for public screenings and television broadcast. For information regarding rental rates and formats, please contact [email protected] for institutional/non-theatrical screenings, or [email protected] for theatrical, festival, television, or other bookings.