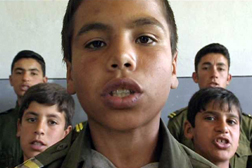 Type:


Documentary





Director:


Omar Amiralay





Year:


2003





Time:


59 minutes





Language:


Arabic with English subtitles

"A rare contemporary example of filmmaking combining formal mastery with political courage."
–Peter Scarlet, Tribeca Film Festival



In 1970, director Omar Amiralay showed his enthusiasm for President Hafez Al-Assad's efforts to modernize Syria by dedicating his first documentary to the construction of the impressive new Euphrates Dam. The dam, and others like it, was to be the pride of the Baath Party.

The collapse of the Zayzun Dam thirty years later, which killed dozens of people and ruined thousands of lives, and the revelation of an official report that had predicted the dam's fate, inspired Amiralay to make A Flood In Baath Country, which examines the flood's devastating impact on a Syrian village. With its powerful and daring critique of Syria's political regime and the tribal politics that hold it together, the film foreshadows the wave of democracy currently sweeping the Arab world, with citizens finally rising up to demand a fundamental change in their countries' leadership.

DVD also includes Omar Amiralay's 13-minute 1970 documentary, Film Essay on the Euphrates Dam.

This film is available with a Digital Site License (DSL), which allows colleges, universities, or libraries to encode, locally host, and stream the film to their community on a closed, password-protected system.

Rental Information
This film is available from AFD for public screenings and television broadcast. For information regarding rental rates and formats, please contact [email protected] for institutional/non-theatrical screenings, or [email protected] for theatrical, festival, television, or other bookings.