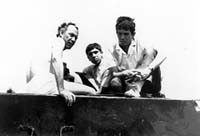 Type:


Feature Film





Director:


Tawfik Saleh





Year:


1972





Time:


107 minutes





Produced by:


Mohagerine-Morabet





Edited by:


Saheb Haddad





Language:


Arabic with English subtitles

Winner! Carthage Film Festival, Tanit d'Or
Nominated! Moscow International Film Festival, Golden Prize

"A classic masterpiece of Arab cinema."
- The North African and Middle East Festival

"Skillfully directed and crisply photographed in black and white."
- The Seattle Times



The Dupes is a stark, beautifully photographed black and white film tracing the destinies of three Palestinian refugees brought together by dispossession, despair and hope for a better future.

The setting is Iraq in the 1950s and the protagonists, concealed in the steel tank of a truck, are trying to make their way across the border into Kuwait, the "promised land."

A masterful adaptation of Ghassan Kanafani's acclaimed novella, Men Under the Sun, The Dupes is also one of the first Arab films to address the Palestinian predicament.

This film is available with a Digital Site License (DSL), which allows colleges, universities, or libraries to encode, locally host, and stream the film to their community on a closed, password-protected system.

Rental Information
This film is available from AFD for public screenings and television broadcast. For information regarding rental rates and formats, please contact [email protected] for institutional/non-theatrical screenings, or [email protected] for theatrical, festival, television, or other bookings.