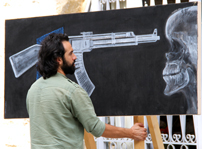 Type:


Documentary





Director:


Raghad Mardini (Artistic Director)





Year:


2014





Time:


27 minutes





Produced by:


Raghad Mardini





Edited by:


Dani Abo Louh, Mirna Mounayar





Language:


In Arabic with English subtitles

Art of Resilience is a documentary about a unique cultural center in the in the mountains of Aley outside of Beirut, Lebanon. Art Residence Aley's building was partially destroyed during the Lebanese civil war and was left in a state of disrepair after the war ended. In 2012, Syrian activist and civil engineer Raghad Mardini, took it upon herself to lovingly restore the place and offer it as temporary haven to fellow Syrian artists seeking refuge from Syria's traumatic civil war. Like the artists, the space itself – an abandoned horse stables partly recovered from a violent past. Artists from various Syrian ethnicities and sects arrive homeless and exhausted by their civil war experiences. At ARA, they commit to living a communal life focused on art and creativity away from the tensions back home. They interact, create, and exhibit their work and use their residency time to regain their focus and creative energy. In this collaborative documentary, the young artists chronicle the everyday life of this intentional community as they reflect on their art, their country, and their place in it. Art of Resilience is a transformative and inspirational documentary about a truly wondrous place.

Watch Trailer:


This film is available with a Digital Site License (DSL), which allows colleges, universities, or libraries to encode, locally host, and stream the film to their community on a closed, password-protected system.

Rental Information
This film is available from AFD for public screenings and television broadcast. For information regarding rental rates and formats, please contact [email protected] for institutional/non-theatrical screenings, or [email protected] for theatrical, festival, television, or other bookings.