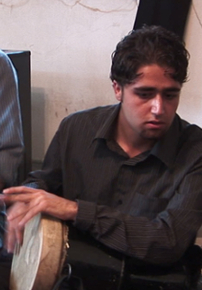 Type:


Documentary





Director:


Persheng Sadegh-Vaziri





Year:


2013





Time:


54 minutes





Produced by:


Persheng Sadegh-Vaziri





Language:


Kurdish (Sorani), Farsi, English with English subtitles.

"Road to Kurdistan allows us to travel along as a culture navigates between boundaries,
forcing us to question where freedom residesówithin us or among us."
ó Margaret J. Krauss, Intelligent Travel



This moving documentary takes the viewer on a road trip into the heart of the Kurdish soul. Fo'ad, a talented student musician, travels to Iraq from Iran, looking for new opportunities for his Kurdish band in Suleimaniya. His fellow travelers on this at times dangerous journey are the filmmaker's aging father and aunt. The Vaziris are keen to explore Suleimaniya's rich past and pay tribute to one of Kurdistan's famous women poets: The late Mastoureh Ardalan. On the bus, Fo'ad enchants his fellow travelers with his soulful music and warm voice. As the group's small bus navigates the many checkpoints and borders, it becomes clear that love of Kurdish culture and music is what brings the travelers together. Road to Kurdistan examines the re-emerging cultural roots between Iraqi and Iranian Kurdistan after the fall of Saddam and the opening of the Iran-Iraq border.

This film is available with a Digital Site License (DSL), which allows colleges, universities, or libraries to encode, locally host, and stream the film to their community on a closed, password-protected system.

Rental Information
This film is available from AFD for public screenings and television broadcast. For information regarding rental rates and formats, please contact [email protected] for institutional/non-theatrical screenings, or [email protected] for theatrical, festival, television, or other bookings.