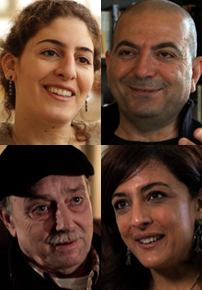 Type:


Documentary





Director:


Tim Schwab





Year:


2014





Time:


78 minutes





Produced by:


Tim Schwab





Edited by:


Karim Haroun, Yurij Luhovy, David Di Francesco





Language:


English, Arabic with English subtitles

MESA FilmFest, 2014
Toronto Palestine Film Festival, 2014
Chicago Palestine Film Festival, 2014

"It is critical to see Palestinians as real people rather than caricatures."
— Tim Schwab, Director



Director Tim Schwab (Being Osama) was so inspired by the quality and breadth of work being created by Palestinian filmmakers under the most difficult conditions, he decided to document this burgeoning cinema on film. His documentary, Cinema Palestine, features interviews with a wide range of film and media makers as well as excerpts from award-winning films to outline the emergence of the Palestinian narrative through film. Cinema Palestine also explores the implications of this important cinema on Palestinian national identity and the relationship between art, personal experience, and politics.

Watch the Trailer:



This film is available with a Digital Site License (DSL), which allows colleges, universities, or libraries to encode, locally host, and stream the film to their community on a closed, password-protected system.

Rental Information
This film is available from AFD for public screenings and television broadcast. For information regarding rental rates and formats, please contact [email protected] for institutional/non-theatrical screenings, or [email protected] for theatrical, festival, television, or other bookings.