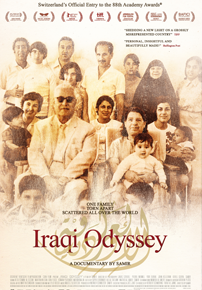 Type:


Documentary





Director:


Samir





Year:


2014





Time:


163 minutes





Written by:


Samir





Edited by:


Sophie Brunner, Ali Al Fatlawi, Wathiq Al Ameri, Samir





Language:


Full-Length Version: Arabic & English with English subtitles Classroom Version: In English & Arabic with English narration & voice over

"For American audiences Iraqi Odyssey will be a revelation."
— New York Times

"Iraqi Odyssey is one of the more breathless documentaries in recent memory."
— Village Voice



"A personal, insightful and beautifully made film...I was spellbound in front of the screen."
— Huffington Post

90-minute Classroom-friendly and theatrical
version are now available for institutions!

Switzerland's Official Submission
for the 88th Academy Awards

Tracing the emigrations of his family over more than half a century, this riveting 3D documentary epic from acclaimed expatriate Iraqi filmmaker Samir pays moving homage to the frustrated democratic dreams of a people successively plagued by the horrors of colonialism, dictatorship, war, and foreign occupation.

While there are no precise statistics, it is estimated that four to five million Iraqis live outside Iraq today. Award-winning filmmaker Samir was born in Baghdad and has lived in Switzerland since he was child, while the members of his extended family are scattered all over the world — Abu Dhabi, Auckland, Sydney, Los Angeles, Buffalo, London, Paris, Zurich, and Moscow — with only a handful remaining in Iraq. Recounting his family's stories of departures and uprootings, in Iraqi Odyssey Samir also chronicles how Iraqis' dreams of building a modern and just society after their nation achieved independence in the 1950s were brutally dashed over the course of half a century.

Loosely organized in three acts, the film begins with Samir's grandfather and his role in the struggle against British colonialism. The second act traces the successive waves of emigration as his relatives sought safe havens around the globe to escape from the series of coups and counter-coups in the 1960s and 1970s that resulted in the establishment of Saddam Hussein's three-decade dictatorship over the country. Saddam's deposition by the 2003 US invasion, and the iconic image of his statue being toppled in Firdos Square, signals the film's final act, and the last tale of departure.

Weaving together the ironic, wistful, and witty testimonies of Samir's relatives with rare documents from private and state archives, and Ottoman film footage, Iraqi Odyssey is a riveting epic that creates a genuine people's history of Iraq, at once humble and majestic.

Shedding a new light on a grossly misrepresented country, Iraqi Odyssey is the veteran director's most personal, ambitious, and accomplished feature to date.
— Rasha Salti, Toronto International Film Festival

Watch Trailer:


This film is available with a Digital Site License (DSL), which allows colleges, universities, or libraries to encode, locally host, and stream the film to their community on a closed, password-protected system.

Rental Information
This film is available from AFD for public screenings and television broadcast. For information regarding rental rates and formats, please contact [email protected] for institutional/non-theatrical screenings, or [email protected] for theatrical, festival, television, or other bookings.