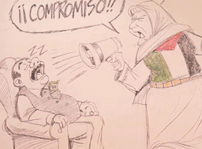 Type:


Documentary





Director:


Hebat-Allah El Attar





Year:


2014





Time:


45 minutes





Language:


Spanish with English subtitles

MESA FilmFest, 2014

"...Christian Palestine in Chile pays homage to the longstanding
and sizable Palestinian minority in Chile."
— The Electronic Intifada



Due to political and economic instability, Christian Palestinians have been immigrating to the Americas since the 19th century. Today Christians Palestinians constitute only 2% of the population in the Holy Land.

Surprisingly Chile, is currently the home to the largest Christian Palestinian community outside the Middle East. This film introduces the viewer to the voices of Christian Palestinians from all walks of life and shows how this influential community evolved through the years as it adapted to a new home and culture.

This thriving community is well integrated into Chilean society but it's ties to the homeland and fellow Palestinians have never been stronger.

This film is available with a Digital Site License (DSL), which allows colleges, universities, or libraries to encode, locally host, and stream the film to their community on a closed, password-protected system.

Rental Information
This film is available from AFD for public screenings and television broadcast. For information regarding rental rates and formats, please contact [email protected] for institutional/non-theatrical screenings, or [email protected] for theatrical, festival, television, or other bookings.