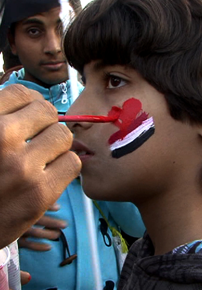 Type:


Documentary





Director:


Tania Kamal-Eldin





Year:


2014





Time:


30 minutes





Language:


In Arabic, English with English subtitles

MESA FilmFest, 2014
Canada International Film Festival, 2015

"A unique and very timely film." — Dr. Mary Stroll, Historian, U of California, San Diego

"Very well done...Kamal-Eldin lets the film speak for itself without patronizing the subjects or slanting the camera in a particular direction." — Dr. Alice Swensen, Professor emerita, University of Northern Iowa



Tania Kamal-Eldin's (Hollywood Harems, Covered, and Cairo Chronicles) latest documentary juxtaposes the daily lives of two Egyptian boys from different socioeconomic backgrounds. Abdallah is a single child living with his mother in Cairo and Islam lives with a large family at his village oasis. Islam's stronger connection to nature and family is contrasted with Abdallah's sedentary lifestyle and preoccupation with digital devices. Unlike Islam, Abdallah has a strong identification with Western culture in his demeanor, interests, and education. Both boys dislike school and love dogs, and aspire to visit America one day.

This film is available with a Digital Site License (DSL), which allows colleges, universities, or libraries to encode, locally host, and stream the film to their community on a closed, password-protected system.

Rental Information
This film is available from AFD for public screenings and television broadcast. For information regarding rental rates and formats, please contact [email protected] for institutional/non-theatrical screenings, or [email protected] for theatrical, festival, television, or other bookings.