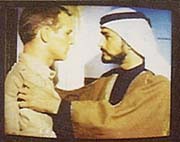 Type:


Documentary





Director:


Jayce Salloum and Elia Suleiman





Year:


1990





Time:


41 minutes





Language:


In English and Arabic with English subtitles

"The diverse images collected in the tape achieve a cumulative effect, jolting the viewers awake from the Us and Them viewpoint embedded in our cultural outlook." — Cathy Curtis, Los Angeles Times



Lebanese/Canadian artist Jayce Salloum and Elia Suleiman, a Palestinian filmmaker living in New York, have taken on our accumulated (mis)impressions of the Palestinian Intifada by tracing their genesis in film and television.

This highly kinetic tableaux of uprooted sights and sounds works most earnestly to expose the racial biases concealed in familiar images. Relying on valuable snippets from feature films such as Exodus, Lawrence of Arabia, Black Sunday, Little Drummer Girl and network news shows, the filmmakers have constructed an oddly wry narrative mimicking the history of Mid East politics.

This film is available with a Digital Site License (DSL), which allows colleges, universities, or libraries to encode, locally host, and stream the film to their community on a closed, password-protected system.

Rental Information
This film is available from AFD for public screenings and television broadcast. For information regarding rental rates and formats, please contact [email protected] for institutional/non-theatrical screenings, or [email protected] for theatrical, festival, television, or other bookings.