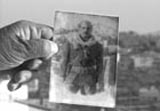 Type:


Documentary





Director:


Leon Willems and Tinus Kramer





Year:


1998





Time:


45 minutes





Produced by:


BADIL Resource Center and Leone Film & Video





Written by:


Leon Willems and Tinus Kramer





Edited by:


Leon Willems





Language:


English and Arabic with English subtitles

Jerusalem 1948: Yoom Ilak, Yoom Aleik covers the events in Jerusalem and the major villages to the south and west in the period between the 1947 UN Partition Resolution and the first truce between the Arab and Israel armed forces in June 1948. The film challenges the major myths surrounding the war of 1948 that resulted in Israeli statehood and Palestinian exile.

The film aims, on the one hand, to explain the historical complexity of the Palestinian Nakba in 1948 and provide insight into the diversity of Palestinian refugee experiences since then. Palestinian eyewitnesses and experts, now refugees living in refugee camps, villages and cities in Palestine, Jordan and the USA tell the story of their lives in pre-1948 Jerusalem.

Jerusalem 1948 is based on three years of research on the circumstances of Palestinian eviction from the New City of Jerusalem (now Israeli West Jerusalem) conducted in cooperation with the Institute for Jerusalem Studies.

This film is available with a Digital Site License (DSL), which allows colleges, universities, or libraries to encode, locally host, and stream the film to their community on a closed, password-protected system.

Rental Information
This film is available from AFD for public screenings and television broadcast. For information regarding rental rates and formats, please contact [email protected] for institutional/non-theatrical screenings, or [email protected] for theatrical, festival, television, or other bookings.