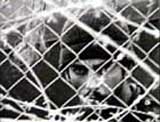 Type:


Documentary





Director:


Akram Zaatari





Year:


1997





Time:


43 minutes





Language:


Arabic with English subtitles

Issues of representation within the occupied zone of South Lebanon are explored in this documentary. The film's three staged interviews with Lebanese prisoners in Israel illustrate aspects of life under occupation with convincing poignancy.

Zaatari uses the interview format as a tribute to French filmmaker Jean-Luc Godard's HERE AND ELSEWHERE which probed images of the Palestinian/Israeli conflict in South Lebanon 20 years earlier.

This film is available with a Digital Site License (DSL), which allows colleges, universities, or libraries to encode, locally host, and stream the film to their community on a closed, password-protected system.

Rental Information
This film is available from AFD for public screenings and television broadcast. For information regarding rental rates and formats, please contact [email protected] for institutional/non-theatrical screenings, or [email protected] for theatrical, festival, television, or other bookings.