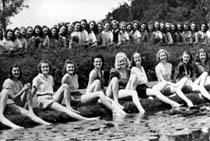 Type:


Documentary





Director:


Aysha Ghazoul





Year:


1999





Time:


45 minutes





Language:


English

"Grandma is the one who has stayed constant, it is I who changed…Love brought our two worlds together. History pulls them apart."

Ghazoul's first film is a loving exploration of the relationship between an Iraqi filmmaker currently living in Portland, Oregon and her Texan grandmother. Skillfully integrating personal voice, historical footage and home movies, Ghazoul tells the story of her grandmother who worked as a showgirl in the 1930's and 40's. An independent spirit, she married an Iraqi pilot and moved with him to the Middle East, only to return to Texas after his death and settle into a life bound by American conventions.

This film is available with a Digital Site License (DSL), which allows colleges, universities, or libraries to encode, locally host, and stream the film to their community on a closed, password-protected system.

Rental Information
This film is available from AFD for public screenings and television broadcast. For information regarding rental rates and formats, please contact [email protected] for institutional/non-theatrical screenings, or [email protected] for theatrical, festival, television, or other bookings.