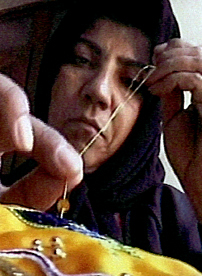 Type:


Documentary





Director:


Maani Petgar





Year:


1999





Time:


30 minutes





Language:


Farsi with English subtitles

Ms. Eshrat Badr had spent most of her life in Shiraz, one of Iran's most ancient cities. Nearly 22 years ago, however, she began traveling to various parts of Iran in order to study the different patterns of traditional Iranian women's costumes throughout her country. After studying the styles and characteristics from 98 different regions, Ms. Badr returned to Shiraz to begin working on her own designs.

While influenced by the colors, history and culture of Shiraz, her patterns also revive the colorful traditions of all parts of Iran in the context of contemporary society.

This film is available with a Digital Site License (DSL), which allows colleges, universities, or libraries to encode, locally host, and stream the film to their community on a closed, password-protected system.

Rental Information
This film is available from AFD for public screenings and television broadcast. For information regarding rental rates and formats, please contact [email protected] for institutional/non-theatrical screenings, or [email protected] for theatrical, festival, television, or other bookings.