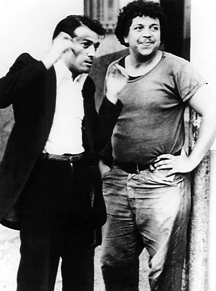 Type:


Feature Film





Director:


Merzak Allouache





Year:


1976





Time:


90 minutes





Language:


Arabic with English subtitles

"Omar Gatlato's deadpan narration belies the uncertainty and anger of his generation, which is beleaguered with problems of reconstruction and alienation." - Lawrence Chua, Village Voice



A watershed film, Omar Gatlato holds a mirror up to Algerian male culture...and the mirror cracks. The title refers to the expression "gatlato al-rujula"—or, roughly, "machismo killed him"—and the film's mordant insights into male posturing and alienation in Algerian society animate this bit of folk wisdom.

In mock documentary style, a young man recounts with wry commentary a typical day in his life in the Bab el-Oued quarter of Algiers, while the camera playfully shows a different story. In following Omar and his friends in their pursuit of happiness, the film examines with shrewd humor the gang values of urban youth—their passion for popular culture (soccer, "Hindoo" movies, Rai concerts); their hidden fear of women; their social insecurity in an environment where they are marginalized.

"Omar Gatlato (1976), [Merzak Allouache's] first feature film, set in the neighborhood of Bab el-Oued in Algiers, was such a success that it changed the course of Algerian cinema. The popularity of Omar Gatlato with Algerian audiences demonstrated to the Algerian film industry that its public had an appetite for complex films that dealt with the realities of Algerian contemporary society, opening the door to other films of the same ilk." - Harvard Film Archive

This film is available with a Digital Site License (DSL), which allows colleges, universities, or libraries to encode, locally host, and stream the film to their community on a closed, password-protected system.

Rental Information
This film is available from AFD for public screenings and television broadcast. For information regarding rental rates and formats, please contact [email protected] for institutional/non-theatrical screenings, or [email protected] for theatrical, festival, television, or other bookings.