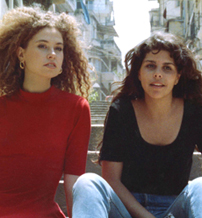 Type:


Feature Film





Director:


Jocelyne Saab





Year:


1994





Time:


101 minutes





Language:


English and Arabic with English subtitles

"This reflexive voyage into a celluloid Beirut becomes the key to finding out to which Beirut one is returning, and to point to the new Beirut one wishes for the future." - Ella Shohat and Robert Stam, Cineaste



Distraught over Beirut's destruction, Yasmine and Leila embark on a journey in search of its past. Their possession of two rare, unreleased film reels lands them an encounter with Monsieur Farouk, a reclusive film connoisseur.

Through the magic of cinema, the three of them go back in time on a mythical and history-laden tour of the city. Here the movie shines with images of Beirut from the large-scale American studio efforts of the 1970's to the Beirut of the 1960's as seen through the lenses of Arab filmmakers, to the French-directed films of the 1930s. Once Upon a Time: Beirut offers an enchanting look at one of the Middle East's most complex and beautiful cities.

This film is available with a Digital Site License (DSL), which allows colleges, universities, or libraries to encode, locally host, and stream the film to their community on a closed, password-protected system.

Rental Information
This film is available from AFD for public screenings and television broadcast. For information regarding rental rates and formats, please contact [email protected] for institutional/non-theatrical screenings, or [email protected] for theatrical, festival, television, or other bookings.