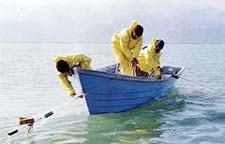 Type:


Documentary





Director:


Mohammad Aladpoush





Year:


1993





Time:


21 minutes





Language:


English

This film about Iranian caviar first explores the special environment of the caviar fish. Next, we are introduced to the fishermen and the many other specialists involved in processing this product until it is ready for store shelves.

While presenting precise details about caviar, Pearl of the Caspian also examines the colorful lifestyles of the people who live on the southern coast of the Caspian Sea.

This film is available with a Digital Site License (DSL), which allows colleges, universities, or libraries to encode, locally host, and stream the film to their community on a closed, password-protected system.

Rental Information
This film is available from AFD for public screenings and television broadcast. For information regarding rental rates and formats, please contact [email protected] for institutional/non-theatrical screenings, or [email protected] for theatrical, festival, television, or other bookings.