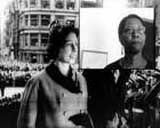 Type:


Documentary





Director:


Julian Samuel





Year:


1993





Time:


99 minutes





Language:


English and French with English subtitles

The Raft of the Medusa: Five Voices on Colonies, Nations and Histories, the first installment in Samuel's video trilogy, focuses on the Orient in intellectual history.

In order to examine world history from a non-European perspective, contemporary and historical views are analyzed through interviews with Amin Maalouf (Léon L'African); Thierry Hentsch (Imagining the Middle East); Sara Suleri (The Rhetoric of English India); Nourbese Philip (Looking for Livingstone, Frontiers) and Ackbar Abbas, commentator on Walter Benjamin and Hong Kong cinema.

Issues addressed include the partition of India in 1947, the future of Hong Kong, Islamic fundamentalism and Occidental modernism.

This film is available with a Digital Site License (DSL), which allows colleges, universities, or libraries to encode, locally host, and stream the film to their community on a closed, password-protected system.

Rental Information
This film is available from AFD for public screenings and television broadcast. For information regarding rental rates and formats, please contact [email protected] for institutional/non-theatrical screenings, or [email protected] for theatrical, festival, television, or other bookings.