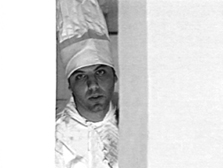 Type:


Feature Film





Director:


Mohammed Soueid





Year:


1998





Time:


70 minutes





Language:


Arabic with English subtitles

Relationships and cinema are the central themes in this very personal, endearing film. Mostly lighthearted but sparkling with intensity, TANGO OF YEARNING is a marvelous tribute to the anguish and longing inherent both in human relationships and on the silver screen.

"I wonder sometimes why many concepts and terms such as "reality" and "authenticity" have always been behind the fluid creativity expressed in the highlighted artistic works emerging from our region since art in general has always been the best response to all kinds of rupture imposed by oblivion.

In that sense, image could be nothing but a free, rather metaphoric, zone where memory can find its way to survival...In every film I've made, I was hopefully looking for the moment that revealed how much people were eager to reconstruct their own stories with their own language(s), as well as mine."
—Director Mohammed Soueid

This film is available with a Digital Site License (DSL), which allows colleges, universities, or libraries to encode, locally host, and stream the film to their community on a closed, password-protected system.

Rental Information
This film is available from AFD for public screenings and television broadcast. For information regarding rental rates and formats, please contact [email protected] for institutional/non-theatrical screenings, or [email protected] for theatrical, festival, television, or other bookings.