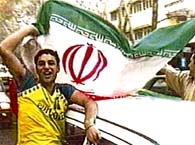 Type:


Short Film





Director:


Seifollah Samadian





Year:


1999





Time:


22 minutes





Language:


Farsi with English Subtitles

A surprisingly moving film, TEHRAN: THE 25TH HOUR provides a look at a moment in Iranian history that may surprise western audiences with its familiarity.

On the 29th of November, 1998, moments after the Iranian National Football Team qualified as the 32nd team in World Cup `98, the usually quiet streets of Tehran were transformed into isles of joy as people united to celebrate their nation's sporting victory. It was one of the happiest days in the life of the modern Iranian nation; a day that would come to be known as "Sweet Saturday."

This video also includes Deadtime and The White Station.

This film is available with a Digital Site License (DSL), which allows colleges, universities, or libraries to encode, locally host, and stream the film to their community on a closed, password-protected system.

Rental Information
This film is available from AFD for public screenings and television broadcast. For information regarding rental rates and formats, please contact [email protected] for institutional/non-theatrical screenings, or [email protected] for theatrical, festival, television, or other bookings.