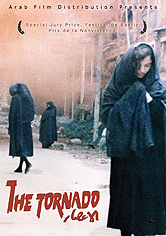 Type:


Feature Film





Director:


Samir Habchi





Year:


1992





Time:


90 minutes





Language:


Arabic with English subtitles

"A phantasm of violence, absurdity and death."
- L'Orient Du Jour

"A gripping study of the complexities of the civil war with particular reference to Lebanese Christian Involvement."
- Mesa Film Fest



In 1992, a young Lebanese director accomplished what many filmmakers considered impossible: a film about the Lebanese Civil War shot on location. Filmed with the help of the Lebanese government, The Tornado narrates the story of a young Lebanese student on a visit home from the Soviet Union. While initially alienated by the war, he quickly finds himself an active participant.

A visual tour-de-force, The Tornado was initially banned in Lebanon and later released in an edited version which was awarded a Special Jury Prize at the Festival de Bastiz, France. It also won the Prix de la Nonviolence in Beirut in 1992.

This film is available with a Digital Site License (DSL), which allows colleges, universities, or libraries to encode, locally host, and stream the film to their community on a closed, password-protected system.

Rental Information
This film is available from AFD for public screenings and television broadcast. For information regarding rental rates and formats, please contact [email protected] for institutional/non-theatrical screenings, or [email protected] for theatrical, festival, television, or other bookings.