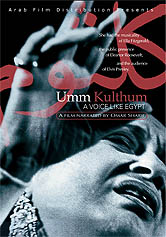 Type:


Documentary





Director:


Michal Goldman





Year:


1996





Time:


67 minutes





Language:


English and Arabic with English subtitles

"Umm Kulthum grows more revealing as it proceeds, helped enormously by the rich legacy of films and recordings."
- The New York Times

"The voice of Umm Kulthum lives on in Goldman's film."
- The Boston Herald



She had the musicality of Ella Fitzgerald, the public presence of Eleanor Roosevelt and the audience of Elvis Presley.

Born a peasant at the turn of the last century, legendary Egyptian singer Umm Kulthum earned a position of great wealth and influence. She was a powerful symbol, first of the aspirations of her country, and then of the entire Arab world. Four million people filled the streets of Cairo for her funeral in 1975, and to this day her songs outsell those of many contemporary Arab female vocalists.

Narrated by Omar Sharif, Umm Kulthum, A Voice Like Egypt takes viewers into her home village and to the streets and cafes of Cairo where she lived and worked. Featuring concert footage, film clips and interviews with the famed singerís friends and colleagues, Goldman's documentary places the life and career of Umm Kulthum in the context of the epic story of 20th century Egypt.

DVD Also Inlcudes:

Umm Kulthum filmography
Insightful new director commentary
Production photo gallery
Fatma trailer

Funded in part by the National Endowment for the Humanities and the Ford Foundation.

This film is available with a Digital Site License (DSL), which allows colleges, universities, or libraries to encode, locally host, and stream the film to their community on a closed, password-protected system.

Rental Information
This film is available from AFD for public screenings and television broadcast. For information regarding rental rates and formats, please contact

[email protected]

for institutional/non-theatrical screenings, or

[email protected]

for theatrical, festival, television, or other bookings.