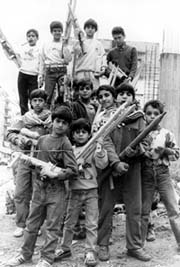 Type:


Documentary





Director:


Jean Khalil Chamoun & Mai Masri





Year:


1988





Time:


50 minutes





Language:


Arabic with English subtitles, some English narration

Winner: Bronze Apple Award—National Film and Video Festival

"A combination of extremely lucid and well-edited personal testimony with dense political and social commentary."
—Afterimage Magazine



Filmmakers Jean Khalil Chamoun, from Lebanon, and Mai Masri, from Palestine, first met in 1982 and were married in 1986. They founded Nour Productions and have co-directed documentaries for international TV channels such as BBC, Channel 4, PBS, and Aljazeera Documentary Channel. For audiences around the world, the films of Mai Masri and Jean Chamoun have provided a glimpse into the everyday lives and struggles of people living in Palestine and Lebanon.

Filmed on the streets of Beirut, War Generation Beirut is a mesmerizing, award-winning documentary that explores the life experiences of three generations of young people as they struggle to survive in Lebanon's war-torn capitol city. The film also traces the history and origins of Lebanon's Civil War.

This film is available with a Digital Site License (DSL), which allows colleges, universities, or libraries to encode, locally host, and stream the film to their community on a closed, password-protected system.

Rental Information
This film is available from AFD for public screenings and television broadcast. For information regarding rental rates and formats, please contact [email protected] for institutional/non-theatrical screenings, or [email protected] for theatrical, festival, television, or other bookings.