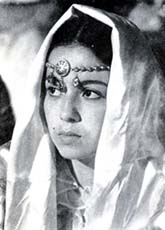 Type:


Feature Film





Director:


Ali Ghalem





Year:


1982





Time:


90 minutes





Language:


Arabic with English subtitles

At age 18, Fatiha divides her time between home and school. But when her parents decide to marry her to Hussein, her only a choice is to submit to their wishes. A Wife For My Son profiles the psychology of the "married wife" in modern Algeria. Based on his acclaimed novel of the same title, Ali Ghalem directs this beautifully photographed story of an arranged marriage.

This film is available with a Digital Site License (DSL), which allows colleges, universities, or libraries to encode, locally host, and stream the film to their community on a closed, password-protected system.

Rental Information
This film is available from AFD for public screenings and television broadcast. For information regarding rental rates and formats, please contact info@arabfilm.com for institutional/non-theatrical screenings, or info@arabfilm.com for theatrical, festival, television, or other bookings.