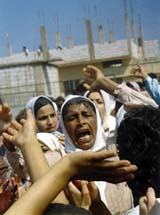 Type:


Documentary





Director:


Jean Khalil Chamoun & Mai Masri





Year:


1986





Time:


70 minutes





Language:


Arabic with English subtitles

Winner: Film Critics AwardóCarthage Film Festival

"A rare, lyrical and poignant film." óLa Presse



Filmmakers Jean Khalil Chamoun, from Lebanon, and Mai Masri, from Palestine, first met in 1982 and were married in 1986. They founded Nour Productions and have co-directed documentaries for international TV channels such as BBC, Channel 4, PBS, and Aljazeera Documentary Channel. For audiences around the world, the films of Mai Masri and Jean Chamoun have provided a glimpse into the everyday lives and struggles of people living in Palestine and Lebanon.

In this award-winning documentary, directors Masri and Chamoun focus on the women who played a crucial role in fighting the Israeli invasion of southern Lebanon. Preserving their stories on camera, Wild Flowers: Women of South Lebanon is a poignant documentary about courage, resistance, and hope.

This film is available with a Digital Site License (DSL), which allows colleges, universities, or libraries to encode, locally host, and stream the film to their community on a closed, password-protected system.

Rental Information
This film is available from AFD for public screenings and television broadcast. For information regarding rental rates and formats, please contact [email protected] for institutional/non-theatrical screenings, or [email protected] for theatrical, festival, television, or other bookings.