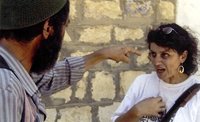 Type:


Documentary





Director:


Patrick Bürge





Year:


2000





Time:


97 minutes





Language:


Arabic and Hebrew with English subtitles

Zuhaira Sabbagh is a young Arab woman who has an Israeli passport and runs an Arab youth group in Nazareth. Armed only with photo equipment, she and members of the youth group set out to locate ruins of Arab villages destroyed by the Israeli Army in 1948.

These photo-journalistic investigations are the means by which this young group of Arabs peacefully resists Jewish attempts to impose a version of history that would obliterate all traces of a time when the land was home to an Arab population. The group's efforts are met with strong opposition from the Israeli inhabitants.

During her investigations, Zuhaira Sabbagh meets Swiss doctor Hans Bernath and his wife who, as delegates of the Red Cross, have witnessed the most important phases of this Middle East conflict.

This film is available with a Digital Site License (DSL), which allows colleges, universities, or libraries to encode, locally host, and stream the film to their community on a closed, password-protected system.

Rental Information
This film is available from AFD for public screenings and television broadcast. For information regarding rental rates and formats, please contact [email protected] for institutional/non-theatrical screenings, or [email protected] for theatrical, festival, television, or other bookings.