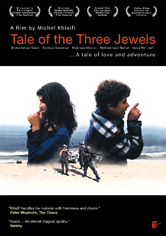 Type:


Feature Film





Director:


Michel Khleifi





Year:


1995





Time:


107 minutes





Produced by:


Michel Khleifi & Omar Al-Qattan





Written by:


Michel Khleifi





Edited by:


Ludo Troch





Language:


In Arabic with English subtitles

Official Selection — Director's Fortnight, Cannes Film Festival
Winner — Golden Butterfly, Isfahan Children's Film Festival
Winner — Grand Prix, Nantes Film Festival

"A glimmering parable about the meaning of life, about beauty and freedom and about the 'three borders' that govern our destiny: time, space and flesh. . . a jewel." —The Independent on Sunday



From acclaimed director Michel Khleifi (Wedding In Galilee), Tale of the Three Jewels is the first feature ever filmed in the Gaza Strip. Made in the days following the Hebron Massacre and before the arrival of the Palestinian Authority, the film tells the story of twelve-year-old Yusef, who escapes from the chaos of the ongoing Palestinian-Israeli conflict by looking for birds in the tranquil countryside. One day his hunt is interrupted by Aida, a ravishing gypsy girl from a nearby neighborhood. Yusef is immediately smitten, but when he declares his intention of making Aida his bride, she says he must first find the three jewels missing from a necklace that was brought from South America by her grandfather. Yusef quickly formulates a plan to cross the sea in order to fulfill Aida's request and win her love.

Screened in the Director's Fortnight section of the Cannes Film Festival in 1995, Tale of the Three Jewels effectively utilizes the grim backdrop of the war-ravaged Gaza Strip as contrast for Michel Khleifi's whimsical story of romantic longing and the power of imagination.

This film is available with a Digital Site License (DSL), which allows colleges, universities, or libraries to encode, locally host, and stream the film to their community on a closed, password-protected system.

Rental Information
This film is available from AFD for public screenings and television broadcast. For information regarding rental rates and formats, please contact [email protected] for institutional/non-theatrical screenings, or [email protected] for theatrical, festival, television, or other bookings.