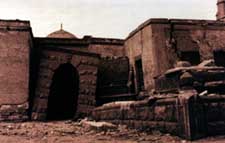 Type:


Documentary





Director:


Samirah Alkassim





Year:


1997





Time:


27 minutes





Language:


English

Winner: Golden Gate Award, San Francisco International Film Festival



Umm Kulthum, the diva of classical Arabic music, was a leading figure in Egyptian and Arab popular culture in the 20th Century. The rise and changes in her career paralleled the rise of the music recording and broadcasting industries in Egypt, and her role in popular culture was singular in that she bridged the divide separating religious and secular expression.

Far From You takes us on a journey to Cairo and to the medium of film in which Umm Kulthum's image is forever inscribed, yet forever at a distance.

This film is available with a Digital Site License (DSL), which allows colleges, universities, or libraries to encode, locally host, and stream the film to their community on a closed, password-protected system.

Rental Information
This film is available from AFD for public screenings and television broadcast. For information regarding rental rates and formats, please contact [email protected] for institutional/non-theatrical screenings, or [email protected] for theatrical, festival, television, or other bookings.