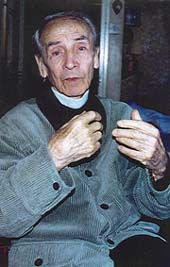 Type:


Documentary





Director:


Ibrahim Khill





Year:


2000





Time:


52 minutes





Language:


French & Arabic w/ English subtitles

PAUL THE CARPENTER is a sincere, uplifting document that focuses on Paul Gauthier who, in 1957, left his comfortable life as a priest, teaching theology and philosophy at the Theological College in Dijon. He then moved to The Holy Land in order to live as a poor man among the poor. He settled in Nazareth and became a worker-priest, working as a laborer on various sites.

After gradually becoming aware of the plight of the Palestinians, he devoted himself to helping their poor find decent lodgings, launching a construction project to re-house them. Myriam joined him in 1958, soon becoming his right hand and faithful companion, working beside him through every difficult situation.

Paul and Myriam left Israel after the outbreak of the Six Day War in 1967, yet they continue to travel and help people wherever they find there are those who need human warmth and a sense of hope.

This film is available with a Digital Site License (DSL), which allows colleges, universities, or libraries to encode, locally host, and stream the film to their community on a closed, password-protected system.

Rental Information
This film is available from AFD for public screenings and television broadcast. For information regarding rental rates and formats, please contact [email protected] for institutional/non-theatrical screenings, or [email protected] for theatrical, festival, television, or other bookings.