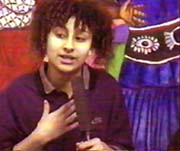 Type:


Documentary





Director:


Jennifer Bing-Canar and Mary Zerkel





Year:


1996





Time:


30 minutes





Language:


English

This video is the result of the directors' year-long collaboration with Arab American teenagers to document their lives growing up on Chicago's southwest side.

It addresses stereotypes and racism towards Arabs and Arab women, while showing what makes many Arab Americans proud of their cultural heritage. Thought provoking and insightful, this video is a complex portrayal of a Chicago community often kept invisible.

This film is available with a Digital Site License (DSL), which allows colleges, universities, or libraries to encode, locally host, and stream the film to their community on a closed, password-protected system.

Rental Information
This film is available from AFD for public screenings and television broadcast. For information regarding rental rates and formats, please contact [email protected] for institutional/non-theatrical screenings, or [email protected] for theatrical, festival, television, or other bookings.