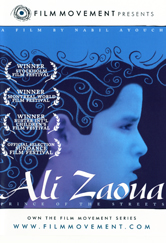 Type:


Feature Film





Director:


Nabil Ayouch





Year:


2000





Time:


90 minutes





Written by:


Nabil Ayouch & Nathalie Saugeon





Language:


Arabic with English subtitles

Winner! Bronze Horse, Stockholm Film Festival
Winner! Audience Award, Amiens International Film Festival

"An engaging and powerful piece of work." —The Guardian

"Not to be missed." —Seattle Weekly



Winner of over 40 international film festival awards!

Director Nabil Ayouch draws on such earlier masterpieces as Luis Bunuel's Los Olvidados and Hector Babenco's Pixote for this memorable and moving portrait of the lives of street kids living in Casablanca's abandoned lots. Ali, Kouka, Omar and Boubker, four young friends who are members of a gang, rebel against their cruel leader's oppressive rule and strike out on their own, running away from "home" a second time.

Although they are surrounded by crime, violence and degradation, the boys long for love and tenderness. Ali's fantasy is to escape to the seas and become a sailor. He wants to reach the island "where two suns set," become a royal prince and "meet a lovely woman."

This film is available with a Digital Site License (DSL), which allows colleges, universities, or libraries to encode, locally host, and stream the film to their community on a closed, password-protected system.

Rental Information
This film is available from AFD for public screenings and television broadcast. For information regarding rental rates and formats, please contact [email protected] for institutional/non-theatrical screenings, or [email protected] for theatrical, festival, television, or other bookings.