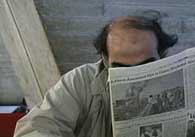 Type:


Documentary





Director:


Hamid Rahmanian, Melissa Hibbard





Year:


2000





Time:


30 minutes





Language:


In English and Persian with English subtitles

"Like any number of Samuel Beckett characters, Nasseri has redefined the concept of waiting."
- New York Times



See the REAL story that inspired The Terminal by Steven Spielberg.

Mehran Karemi Nasseri, who now goes by the name Sir Alfred, has been living in the Charles de Gaulle Airport in Paris for the past twelve years. Dubbed "the strangest case in immigration history," Sir Alfred has been waiting for the document that will allow him to leave France. Unlike the story that has been told in the world press of a man trapped in the underground terminals of an airport, this thoughtful documentary examines the life of a man whose only aspiration is to be somebody else. Directed by Hamid Rahmanian and Melissa Hibbard.

Sir Alfred of Charles de Gaulle Airport explores the nature of personal identity in a globalized world. Shot in an off-the-cuff style it. . . approaches [the subject] as a metaphor for the state in which all immigrants exist, trapped between two countries and forever locked in transit." - L.A. Weekly

This film is available with a Digital Site License (DSL), which allows colleges, universities, or libraries to encode, locally host, and stream the film to their community on a closed, password-protected system.

Rental Information
This film is available from AFD for public screenings and television broadcast. For information regarding rental rates and formats, please contact [email protected] for institutional/non-theatrical screenings, or [email protected] for theatrical, festival, television, or other bookings.